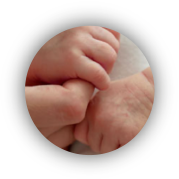 The Child
"My Rabb! Make me establish salaa and my children too. Our Rabb accept our dua."
Sura Ibraheem 14:40

Recite Sura Al Fajr (89) 3x daily
Fast and breakfast with milk on which Sura Al Muzzammil (73) has been recited 77x
Recite part of 21:89 in the qunoot of every salaa.
Sura Maryam (19)
Sura Al Hujuraat (49)
Sura Al Dhaariyaat (51) – taweedh
During labour – for easy delivery
Recite Sura Al Inshiqaq (84) x 7
Recite Sura Al Inshirah (94)
Recite Sura Al Qadr (97) as much as possible
Write 46:35 and 3:35 on paper, wrap it in a cloth and tie it around mum's right leg during labour
Recite Sura Maryam (19)
Write ayaat 8&9 of Sura Al Ra'ad (13) and wear as ta'widh on right arm. Alternatively write with saffron on a china plate and drink the water.
Write Sura Al Hijr (15) with saffron, wash and drink.
Write Sura Yaseen (36) with saffron, wash and drink.
Write aya 21 of Sura Al Mu'minun (23) with saffron, wash and drink.
Sura Al Hujurat (49)
To wean a child from breastfeeding
Write aya 14 of Sura Luqman (31) and make the child wear it as a tawidh
Write ayaat 108 to 112 of Sura Taha (20) and make the child wear as tawidh.
Recite Sura Al Ghashiya (88)
Sura Al Mutafiffeen (83)
Write Sura Al Qaaf (50) with saffron, wash and apply sparingly to child's gums
Assist digestion in children
Sura Al Tur (52) – taweedh
Safety for child from illness
Improve child's memory and intellect
Sura Al Israa (17) – written with saffron and water and given to drink
Recite Sura Al Shu'ara (26) 7x and Sura Al Ahzaab (33) once and blow on child.
After every wajib salaa recite Aya 15 of Sura Al Ahqaaf (46) 7x thinking of the child in question.
Sura Al Qadr (97) – 7x on spouse
To keep away effects of "evil eye"
Recite 7:54-56
28:35 7x after salatul tahajjud
Ayatul Kareema (21:87) 121x after Fajr salaa for 40 days
Recite Sura Al Humazaa (104)